Über Anastasis
Anastasis ist ein Schlüsselwiederherstellungssystem welches dem Benutzer ermöglicht, Teile eines Schlüssels sicher bei einer Gruppe von Escrow-Anbietern zu hinterlegen. Der Benutzer kann so seinen Schlüssel wiederherstellen falls er verloren geht. Der Schlüssel selbst wird vor den Escrow-Anbietern geschützt, indem jedem Anbieter nur ein Teil der Informationen übergeben wird und zusätzlich mit einem identitätsbasierten Schlüssel verschlüsselt wird, der den Anbietern unbekannt ist. Das Hauptziel von Anastasis ist es sicherzustellen, dass der Benutzer seinen Schlüssel zuverlässig wiederherstellen kann, während dies für alle anderen so schwierig wie möglich gemacht wird.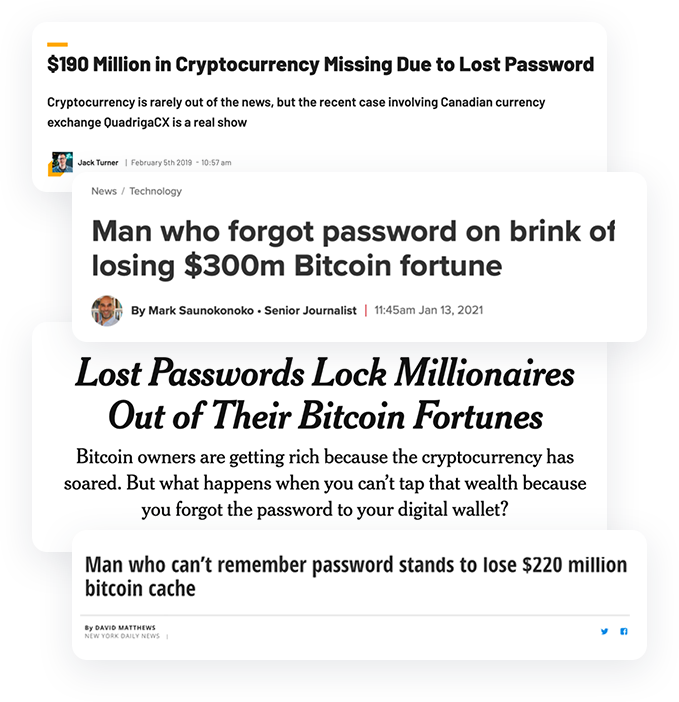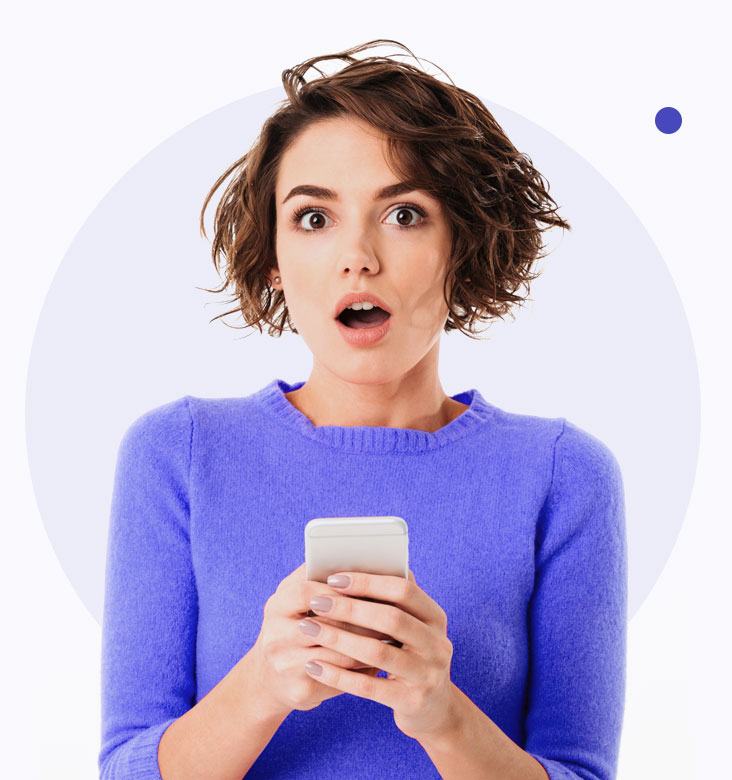 Confidentiality requires only consumer is in control of key material.

Cryptographic key-splitting solutions so far are not usable.

Consumers are unable to simultaneously ensure confidentiality & availability of keys.

European e-money issuers using electronic wallets must:
Enable consumers to always recover their electronic funds (i.e. if devices are lost).
Not assume consumers are able to remember or securely preserve key material.

Users split their encrypted secrets across multiple service providers

Service providers learn nothing about the user, except possibly some details about how to authenticate the user

Only the authorized user can recover the key by following standard authentication procedures (SMS-TAN, Video Identification, security question, e-mail, etc.)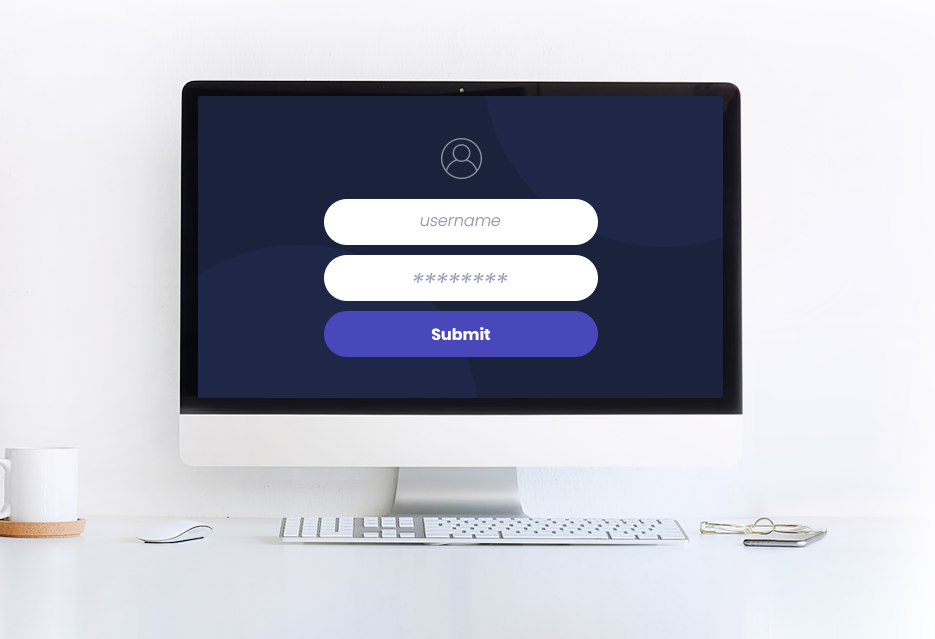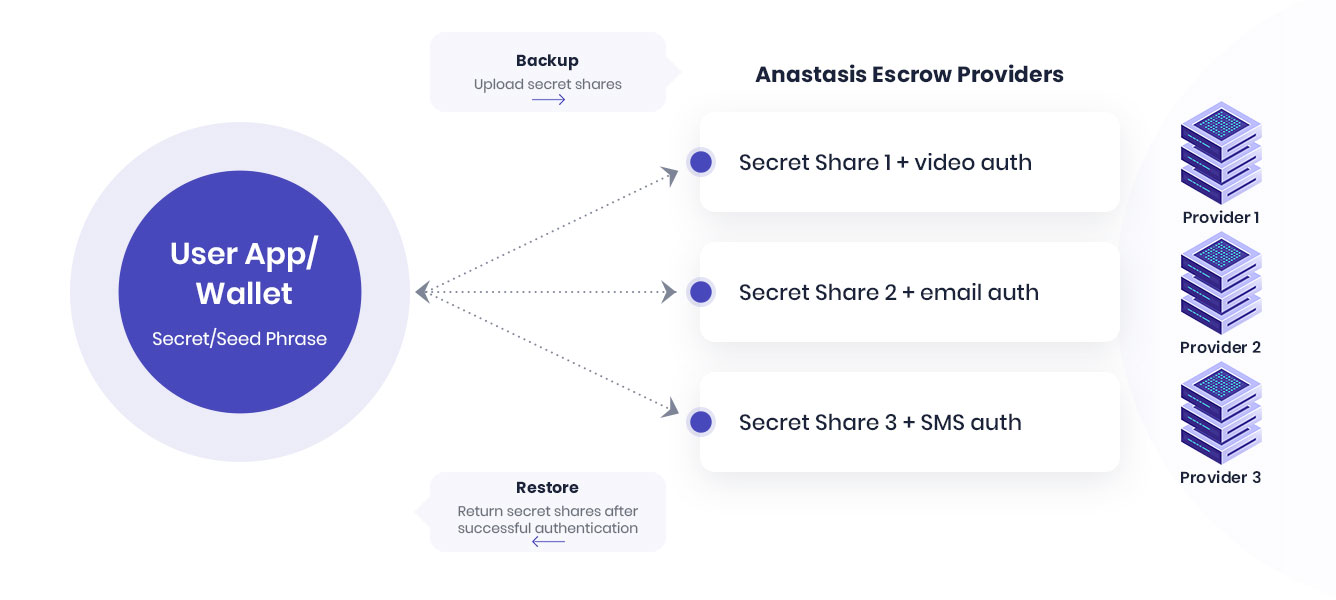 Flexibel
Mit Anastasis können Sie Ihren Schlüssel bei mehreren Escrow-Anbietern verteilen. Sie können verschiedene Kombinationen dieser Anbieter wählen um Ihr Geheimnis wiederherzustellen. Die Anbieter bieten dabei verschiedene Authentifizierungsmethoden wie: SMS, sichere Frage oder E-Mail an.

Robuste Verteidigung
Anastasis basiert auf gut geprüften kryptographischen Techniken. Unsere daraus resultierende Lösung bietet ebenfalls Post-Quantum-Sicherheit. Falls eine Datenbank eines Anastasis-Anbieters kompromitiert werden sollte, kann aus diesen Daten alleine kein Benutzer-Geheimnis wiederhergestellt werden.

Privatsphäre
Anastasis sichert keine Daten des Benutzers mit Ausnahme der Daten die für die Authentifizierung und die Wiederherstellung des Geheimnisses erforderlich sind. Bei der Verwendung von Anastasis ist nur der Benutzer in der Lage, seine Geheimnisse wiederherzustellen. Die Benutzer können anonym für den Dienst bezahlen und jederzeit den Dienstanbieter wechseln.
Prozessablauf beim Hochladen
Step 1 -
User has a core secret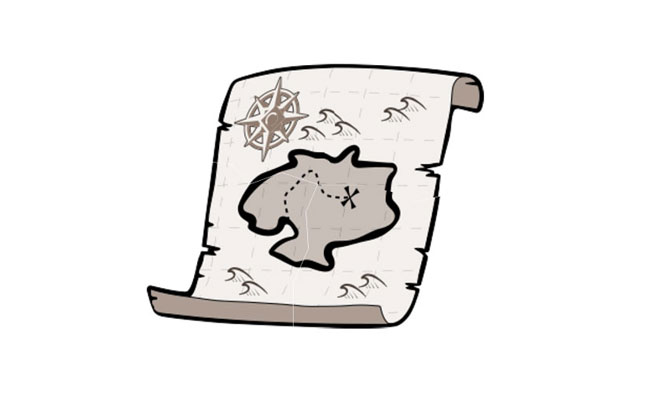 Step 2 -
The core secret is split in several parts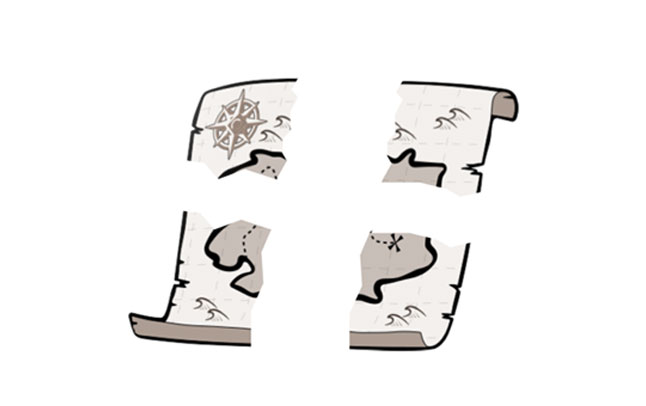 Step 3 -
The system derives the User ID with the provided identity material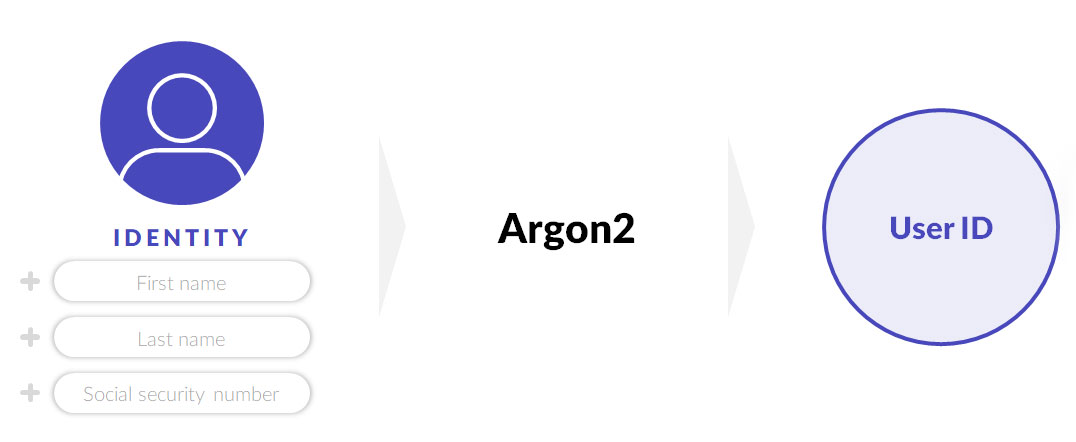 Step 4 -
The system derives two keys with the generated user id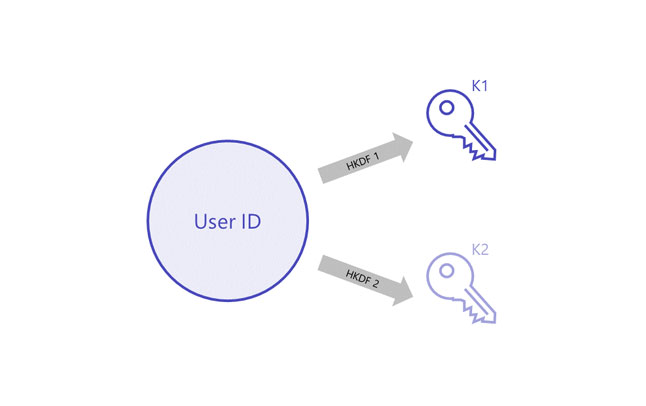 Step 5 -
The pieces of the secret are encrypted with the first key
Step 6 -
The user sets up authentication methods for each part of the secret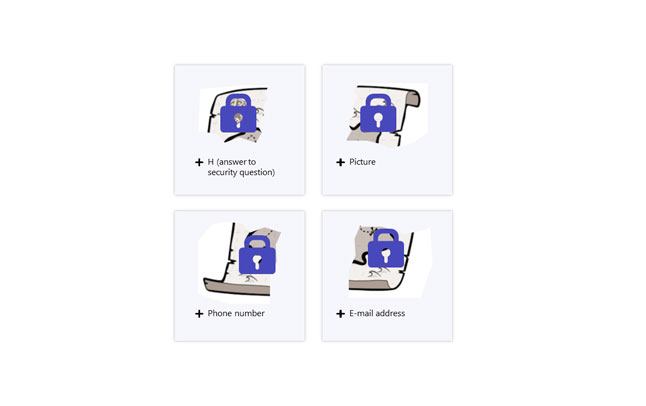 Step 7 -
The authentication data is then encrypted with the second key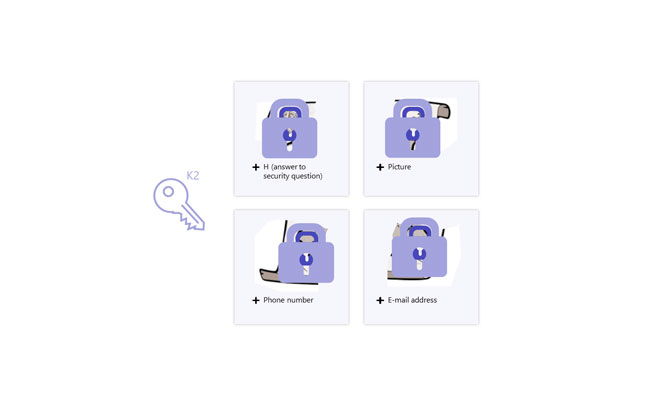 Step 8 -
Encrypted shares of the recovery data are distributed to different providers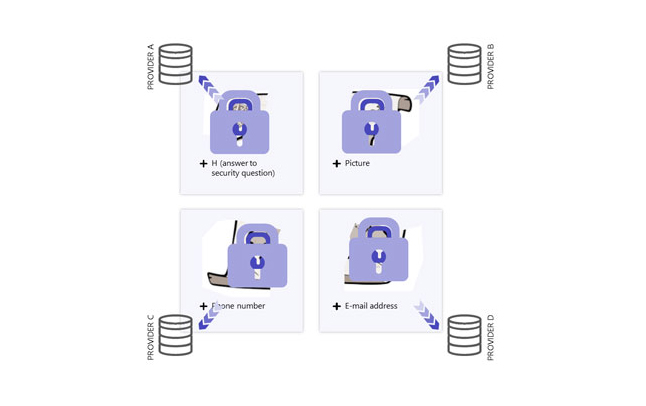 Wiederherstellungsablauf
Step 1 -
The system derives the User ID with the provided identity material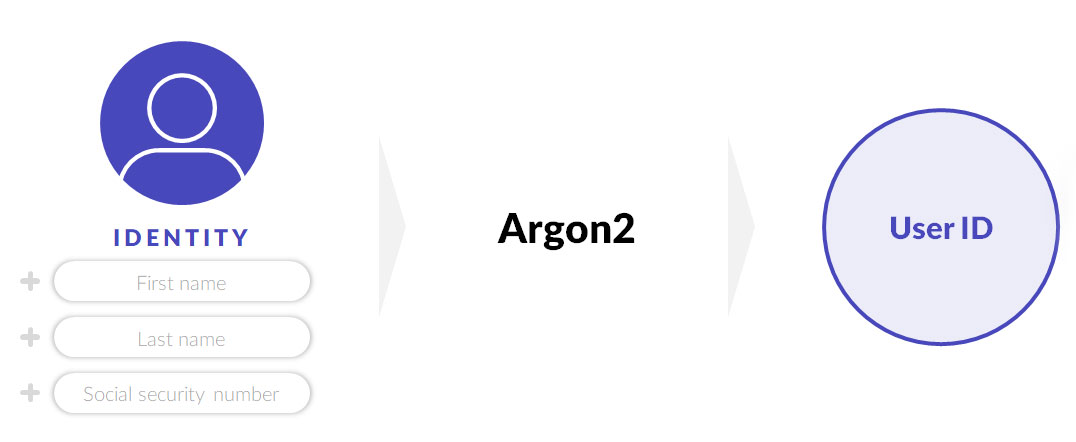 Step 2 -
The system derives the same keys as per the upload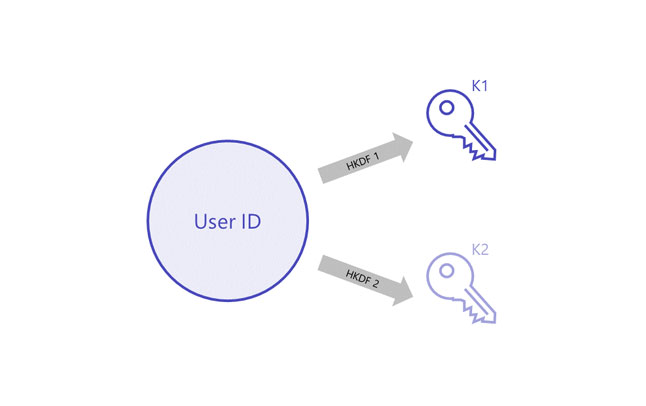 Step 3 -
The user sends the second key to the providers so that they can decrypt the authentication data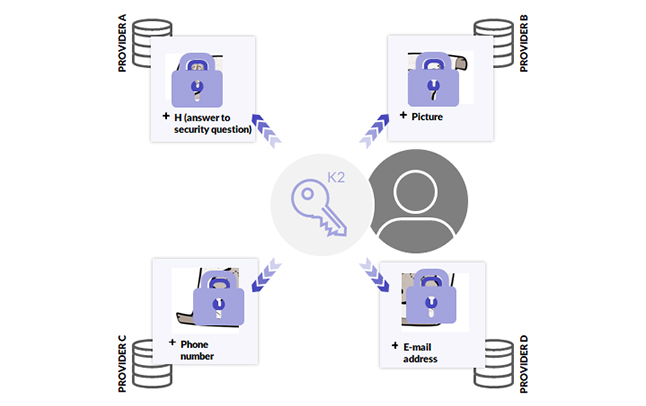 Step 4 -
The providers decrypt the authentication data and issue an authorization challenge to the user.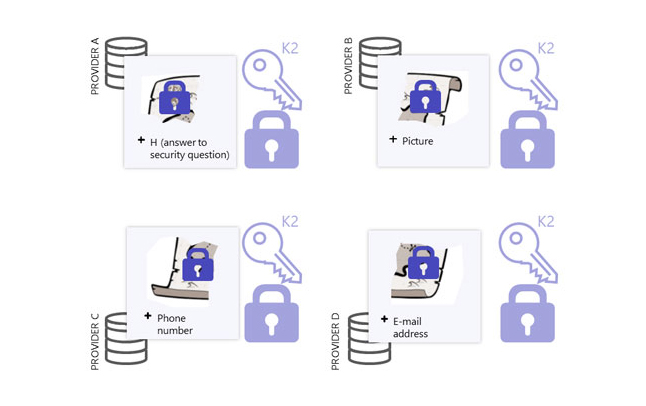 Step 5 -
The user performs the different authentication procedures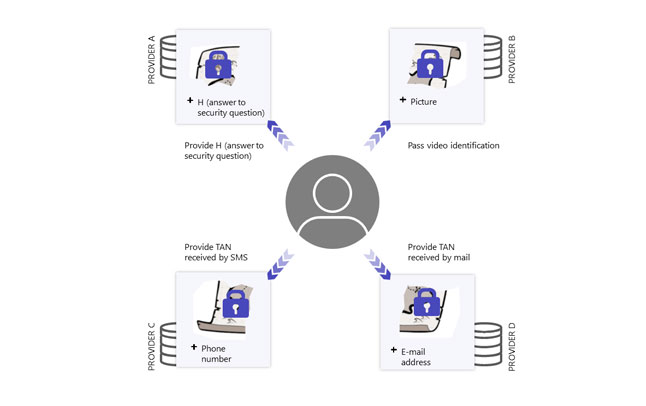 Step 6 -
The user receives the parts of the secret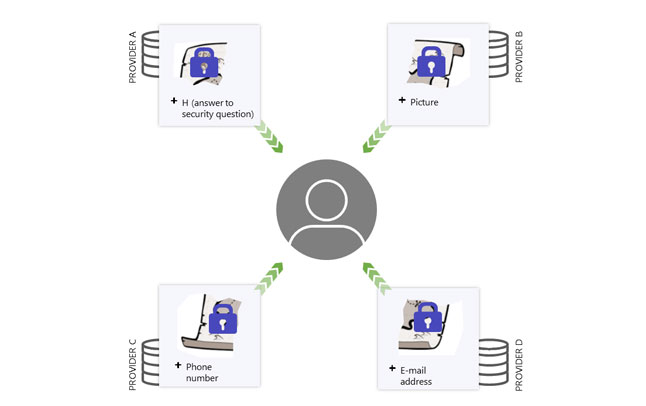 Step 7 -
The user can now decrypt the parts with the first derived key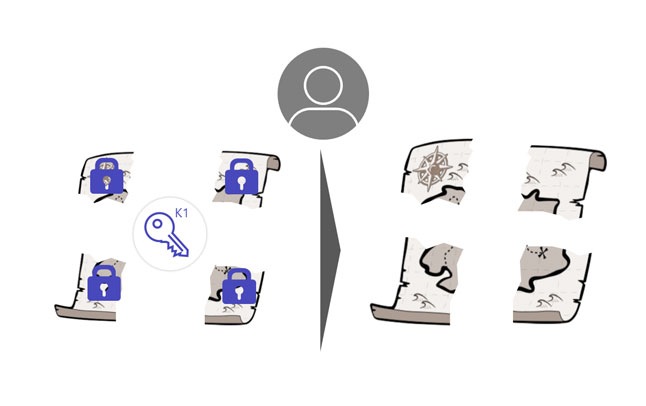 Step 8 -
The system can now reassemble the secret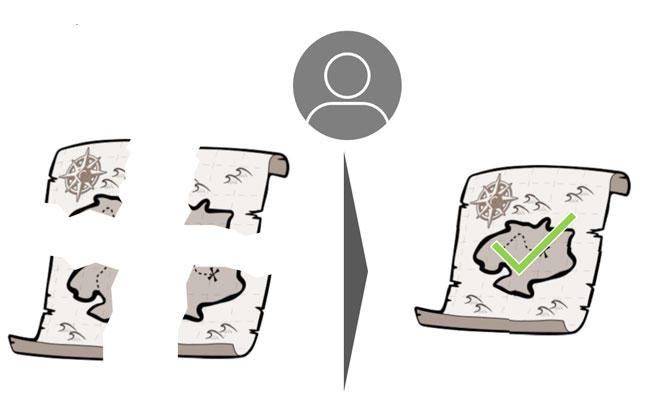 Alleinstellungsmerkmale

Low-cost, scalable cloud-based solution with minimal environmental impact

Increases informational self-determination by keeping consumers in control of their data

Distributed trust instead of single point of failure


Generic API suitable for a range of applications

Maximum privacy with respect to authentication data

Customers can remain anonymous


E-money issuer does not have to protect consumer data against its own staff